Trauma & Co. aims to give voice to and support those living with Trauma & the Complex Intersections with Being Human.
It is a project built on the core foundations of (and the 'Co.' in our name is for):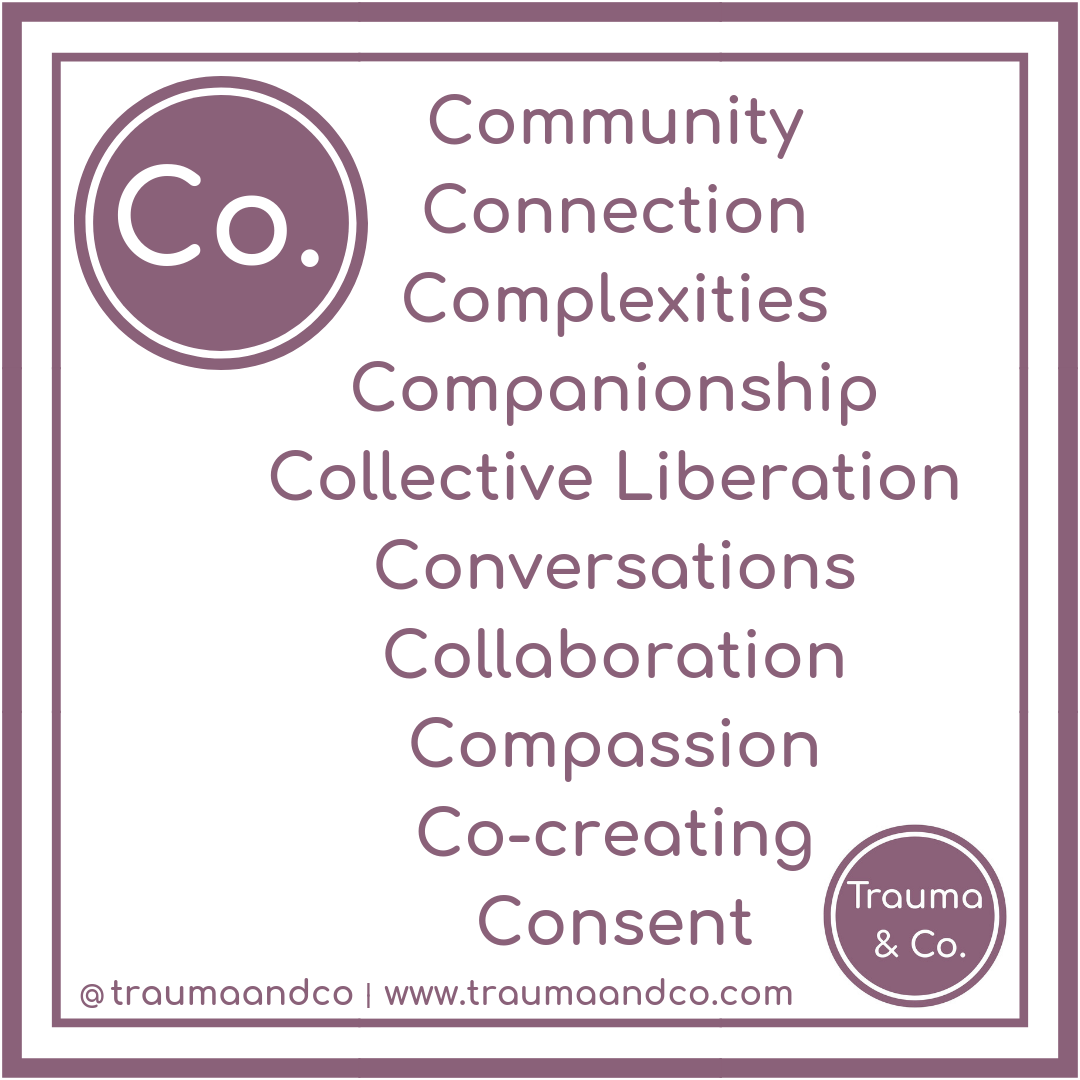 Community
Connection
Complexities
Companionship
Collective Liberation
Conversations
Collaboration
Compassion
Co-creating
Consent
This project acknowledges and makes space for conversation on the complex intersections trauma holds within our human experience – including intersections such as mental health, chronic illness, grief, loss, identity, relationships, culture, oppression, life and death (and everything in between that intersects with trauma).
We aim to amplify voices on trauma and these intersections through words and art on the experience of trauma and the complexities of all that makes us human. It is our hope that you will read or hear words and see art throughout this project that you can relate to in some way, that might help you feel a little less alone in your own unique and connected experiences of trauma.
And.
We cannot fully know each person's individual experience of trauma, and as such we invite you to take what works for you from what we share and leave the rest. You know you best, and we trust you in your knowing. We honour your voice, your choice and your knowing of your needs and what is right for you.
Trauma & Co. is a ongoing project, one we hope to nurture and slowly build as we move forward, all the while holding Trauma & Community, Connection, Complexities, Collaboration,Collective liberation, Companionship, Compassion, Conversations, Co-creating, Consent as its core foundations. Over time we will be building on each of these foundations and expanding the scope of the project.
We'd love for you to join our community:
You can sign up to our mailing list for updates and newsletters here, or follow us on Facebook & Instagram – both @traumaandco.